| My Katy History |
| LA/Santa Barbara-PRISM (October 2013) |
| LA/Santa Barbara-KP3D (June 2012) | Calgary/Edmonton-CDT (July 2011) |
Flew into Los Angeles (LA), drove straight to Santa Barbara (SB) and left my heart there. :)

SANTA BARBARA (Oct 12, 2013)
- La Super Rica ("This Is How We Do" song mention-fresh, delicious food, didnt see any hotties tho, ha!)
- Rustys (pizza & wings, mmm)
- Blenders
- East Beach/Chase Palm Park (carousal, Adidas commercial, MTV Hoods, skatepark, blog, ect)

- Dos Pueblos high school (Katy attended 9th grade, 'homecoming' concert in Sept 2010)
- State street (Farmer's Market, shopping, Starbucks)
- Mountain Avenue (street Katy lived on, MTV Hoods)
- Wildcat Louge
- Old Mission Church (unique historic place, Katy took John here in Oct 2012)
- Montecito (John and Katy spent a lot of time here)
- Hospital Katy was born in



- Goleta beach (Teenage Dream music video)
What do KatyCats do while here? Pull out the iPhone and watch the Teenage Dream video, OF COURSE!
- Carrillo Street Gym (Teenage Dream video)

Playback Studios
(wrote/recorded part of Teenage Dream/PRISM) Thankful for amazing opportunity to tour the studio!

Drove up to San Jose to see the almighty and epic Pink in concert! Aight, that girl is INCREDIBLE! People told me "oh ya, she's in the air while singing." And that sounded cool and all, but meh. BUT THEN... you see it and WOW, just WOW! Amazing woman!
Drove back down to LOS ANGELES...

- In n' Out Burger
- Capitol Records (had Katy posters/billboards)
- Pavilions (where Katy used to shop long ago, lol)
- Pinks Hotdogs
- Warner Brothers Tour (really neat, highly recommend)

McDonald's on LaBrea (mentioned in KP3D)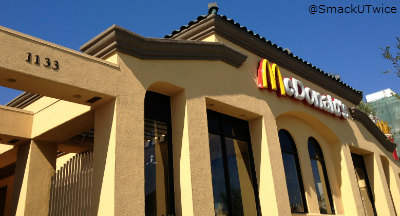 - The Grove (great shopping, Katy's Meow perfume launch)
- Disneyland (Katy's brother David was there the SAME time, but didn't see him, lol.)
- Hotel Cafe (Katy performed here many times in 2005-2007)
- Millions of Milkshakes (I had the Miley Cyrus -- strawberries + Ferrero Rocher)

Saw a building with really neat artwork (including Marlyn Monroe). I snapped a photo. Day after I got home a video went 'viral' of Katy and Robert Pattison at a kareoke bar in 2009. Interestingly enough, the building a took a photo of... was that kareoke bar!!! :)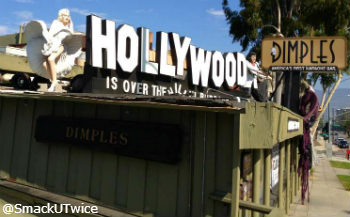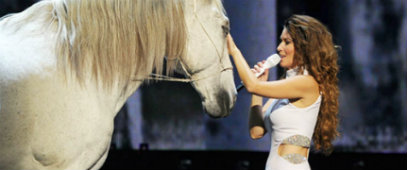 Drove to Vegas to see Shania Twain's "Still The One" residency show at the Colosseum! Shania is 'my other girl' and I've loved her since I was 10 years old. She is such a kind, compassionate, talented and persevering woman... just like Katy! Of course we hit Madame Tussauds to see one of Katy's wax figures!

Then you guessed it. Drove back to LA again to see Katy Perry!
PRISM RELEASE PARTY (Oct 22, 2013) Got there about 11am... absolutely nothing happening, so we crossed the street and had a lovely lunch. The 'on the house' chips n' salsa was to DIE for. However, I wanted to see Katy... People started to set up. I asked a woman if there was any chance of getting in.
"No, the event is private." Hmm. Little by little more KatyCats were joining us. It was wonderful to meet ppl in person and see some ppl again after meeting them Summer 2012 at Katy's LA movie premiere. We kept waiting and waiting.. asking security.. told a few times we couldn't get in, Katy wasn't likely to come out, ect.
Suddenly, at about 6pm (I waited 8 hours, lol) the security guy comes over and says "you get to go in!" WELL, FLIP! After a very quick baggage check, wrist bands and trying to tell the Twitter world "we're going IN," inside we went. We huddled near the front and just off to the right-center of the stage.
She sang several songs off PRISM, including "This Moment," and talked with host, Mario Lopez (cutie). She sounded great, she looked great. Felt wonderful to see her perform live again.


After, we went around to the gate entrance for vehicles, lined up and waited and waited... for another 3 hours! The security guy there was very friendly and did what he could to see if Katy was going to come out that way. And what do ya know. One of the vehicles slowly rolled out and out popped The Queen! Katy stayed at the head of the line and one by one we filed down to meet her. It was requested that we either take a photo or get one autograph. I opted for an autograph as I already have a couple photos with her. I also brought a Katy Hudson CD single and thought that would be really cool to have autographed. :)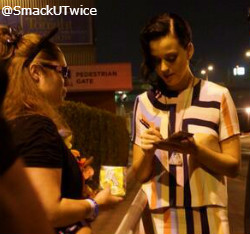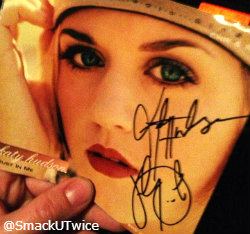 HOLLYWOOD BOWL (Oct 23, 2013)
Got there early. Not much to do, BUT one of the highlights of my entire life (seriously, it was SO cool and special, lol) was being able to watch Katy rehearse on a tv screen just outside where people enter the actual seating area. The tv didn't have sound, but because it was an outside venue, we could hear the rehearsal. Her faces, her dancing, her requests-just SO adorable! Saw all artists onstage and quickly realized they were all going to sing "Roar"... definitely a unique moment to witness and know about before it happened!


I was able to get in on a special VIP pre-show soundcheck (which was more like a Q&A and mini acoustic show, lol) thanks to CITI Private Pass. We went into the seated area of the venue and filled up the front part. Katy came onstage and answered some pre-asked Twitter questions and sang several songs acoustically. Beautiful! Someone set up a plane to circle around the Hollywood Bowl with a message for Katy.
" Thanks 4 staying Katy. Roar in a 'happy' 29! <3 "
Katy's 29th birthday was 2 days after this event. Katy finally saw the plane and it made her cry. It was an amazing moment to witness. Then we sang 'Happy Birthday' to Katy!!!

Then we went back outside the seated area and went to specific areas to get free food and beverages (WOO, lol) and just hang out and feel very VIP-ish! The Hollywood Bowl is a very unique venue! Finally went to our seats as the show was about to begin. Katy came onstage and introduced the first act, Bonnie McKee. There was also Sara Bareilles, Tegan & Sara, and Ellie Goulding. What incredible women! I thoroughly enjoyed! Katy came back onstage, opening with "I Kissed a Girl," followed by other #1 hits and new songs. Katy is such an intense, bring it ALL performer. You'd never know she was fighting a cold (as she mentioned, and could tell when she talked, during the pre-show) - she sounded amazing! Katy's set ended with "Firework" with actual fireworks - amazing! People started leaving, but wait, we saw rehearsals - we know what's coming! WAIT FOR IT... EVERYONE came back onstage and rocked out to "Roar"!!! INCREDIBLE!!!

WOW!!! Slept for a few hours and then started my journey home to Canada!