| My Katy History |
| LA/Santa Barbara-PRISM(October 2013) |
| LA/Santa Barbara-KP3D (June 2012) | Calgary/Edmonton-CDT (July 2011) |
California KP3D Review
Los Angeles/Santa Barbara - June 23 - July 2, 2012
Warning: This is long! :) FROM ALBERTA, CANADA TO LA!
I had been waiting to plan a trip to use up holiday time at work... as I wanted do go somewhere that involved seeing Katy. Once I finally had a date for the LA movie premiere, I KNEW I HAD to be there. I just had to. Something inside of me. I tried, for months, EVERYTHING to get tickets! Very limited as everything was only open to US residents. I never lost hope, but there were some dark times. (hehehe) And I could just feel it; even though I couldn't get any tickets, that I would be at the premiere concert AND movie. So... I headed all the way down to Los Angeles with NO tickets, LOL!!! I met up with MANY KatyCats, but my 'main group' was 3 other girls from Toronto, Canada (Canada represent) and 2 others that drove, non-stop, from Texas! So when I say "we"... that's usually who I mean. :) Must've truly been meant to be--once I landed in LA Pepsi/Billboard tweeted they'd be at the Staples Center in LA giving out tickets! So we went straight to the Staples via taxi! These tickets were what we needed to line up and THEN get an actual ticket/wristband for the premiere. Within 30 minutes of being in LA, I had "tickets"!!! Off to a GREAT start, LOL!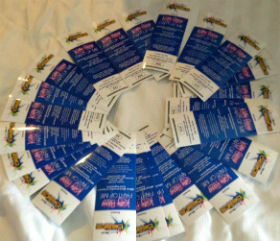 Experienced a lot of LA. Katy wise... saw the apartment she once lived it! Ate at California Pizza Kitchen! Grocery shopped at the same Pavillions Katy used to shop at! Went to The Grove! Enjoyed the amazing hotdogs of Pinks! Saw a sign for Mulholland Drive (where "The One That Got Away" video was done). Tried Taco bell for the first time. Despite having a huge hair in my Crunch Wrap Supreme, (took that back and got another), it was pretty good! :)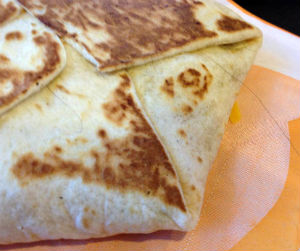 Had the wonderful oppurtunity to be part of a KatyCat Meet-Up at Capitol Records (Thanks to Cheli, Katy's StreetTeam leader--StreetTeam info HERE). Went inside the Capitol Records Tower, had a yummy pizza party, complete with Cherry Pepsi (dont have that in Canada!)!! Left early as we had to go line up to be in the audience for Jimmy Kimmel, which was just down the street...


JIMMY KIMMEL
In the audience for Katy on JK!!! It was a really neat experience...

After the show, got lead out into the crowd of the Offspring concert... haha, didnt even care one bit (but I remember that one song WAY back in the day--"Pretty Fly For A White Guy," LOL!). Wanted to find the way outside to where Katy might sign autographs. Lined up behind a fence/barrier. Met up with some fellow KatyCats... and a bazillion other fans! Katy did come out... it was a little insane. People were pushing, shoving things, yelling, ect. Oh my word. I was used to meeting this Katy Perry chick in a small, peaceful, colorful room full of candy! This was cray cray. I managed to have a sense of humor with it, but it was a bit overwhelming. Katy was sooo calm. Everyone she was with were the ones that took the stress away from her--they got a great team when you really think about it.
Katy made her way
over to me and
we took a photo!
Someone behind me recorded part of my time with Katy!
Photo (2:05min), I ask about JTT photo (2:45min) and her reaction (2:47min)!



She signed TWO of my Katy Hudson CDs... made no comment, barely a blink. Gee, guess it's every day she gets handed 2 of a very rare CD, LOL!! :) I asked if she remembered the JTT photo I gave her. "Oh my God, that was YOU?" Showed her my printed picture of the photo she tweeted of the JTT photo (and pogs) that I gave her. She asked if I wanted it signed... and signed it--"loved ur gifts"... and then she left.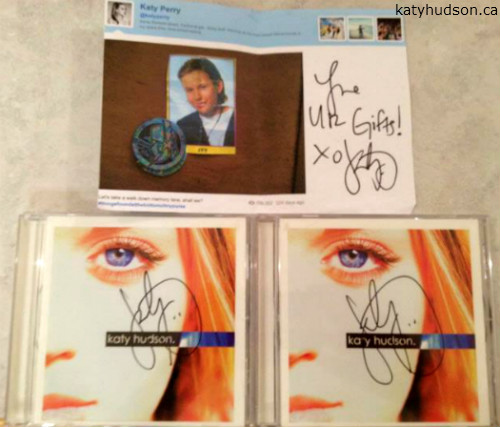 PREMIERE
Checked out more of LA, went to bed at 1am, slept on and off for 2 hours and then we were eating at Denny's at 3:30am! LOL Got down to where the premiere was at 4am! Hard core. LOL Told we couldn't line up until about 10am. SO! It was a lot of wandering around, watched the set up of the stage, the pink carpet, people watching, ect! Starbucks! One person we briefly spoke to and inquired information from bright and early was a guy at the Hard Rock Cafe (where the tickets told us to meet). Little did we know he'd be responsible for something special later on...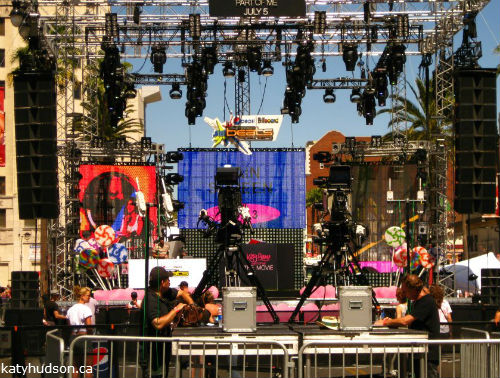 When we were able to, we lined up... for a few hours! Finally started the journey of getting actual tickets/wristbands and this guy starts shouting "These people deserve VIP tickets because they were here very early!" (Don't quote me on those words, but that was the effect, ha!) So my group (and a handful of other KatyCats!) got VIP tickets. Meaning... that altho we had to be near the back for the concert... it was so we could leave the area quickly and go into the Chinese Theatre to watch the movie WITH KATY PERRY! Okay, I dont mind that trade off, AT ALL!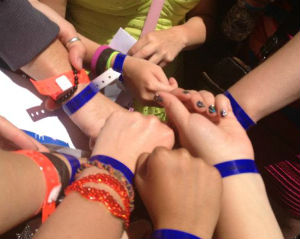 Once we had our wristbands we were free to roam around, again, until closer to the concert. Got to watch Katy's rehearsal! Couple trips to the McDonalds on the corner for bathroom, water, and to cool off! It was HOT!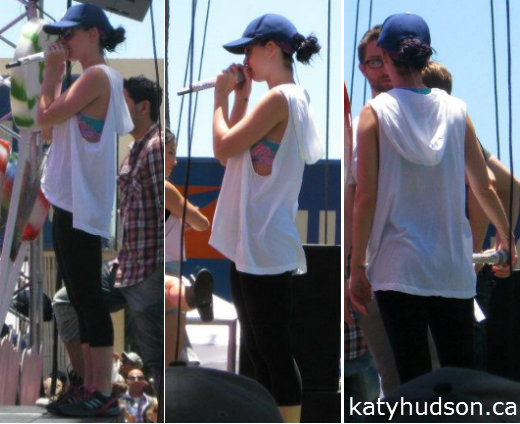 The concert was full of energy! Always a pleasure to watch Katy perform!
Felt great to finally see Wide Awake and Part of Me LIVE! Right after California Gurls (minus the whipped cream, hmph!), we headed into the Chinese Theatre with our VIP tickets. Got a free drink and popcorn and went to our theatre. Katy's family, friends, her team (past and present) and peers were there too! We were able to go around meeting them until they started the movie! Spotted Glenn Ballard a few rows behind me. Had yet to see one person (besides Katy's family/people) go up to him, LOL! And because I knew he was such a HUGE part of Katy's younger years I went to say hello. In our brief conversation I asked about a mystery I've come accross in my research. If Katy had released anything before "One Of The Boys," and speciallficlly, in Japan. As there info out there and everywhere (including books!) that Katy released a limited edition album in Japan in 2004/2005, but I couldn't find any info to prove this (or disapprove either). His answer was a no... nothing was ever released. :) SO, to anyone or website that thinks/says she did... whodda thunk it! :) Met a bunch of others including Katy's parents, sister, Grandma -- it was just AMAZING! Katy finally entered and sat near the back of the theatre. The movie was beautiful. Beyond amazing to clap/holler at certain parts KNOWING Katy was there to hear it. During the end credits, my Twitter screen name is in a list with a few other KatyCats! Not sure on THE spcific reason, probably about a "puzzle piece movie poster contes," but hmm... SANTA BARBARA
Only made sense to jump up to Santa Barbara while I was in Los Angeles.
No one was able to tag along with me, so I was all alone, lol.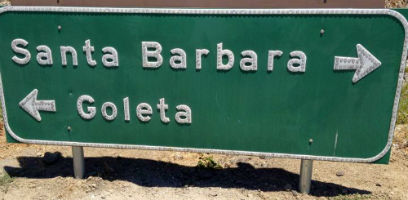 Went to Goleta for a day. This is where Katy went to school in 9th grade. Didn't make it to the school tho. Spent most of my time at Goleta Beach (where the beach part of the Teenage Dream music video was made!). It was Katy Hudson/Perry focused since Katy is from there and spent time growing up there! Went to Chase Palm Park/East Beach where Katy spent a lot of her time while living there. Shopping on State Street! Writing, surfing, skateboarding. More recently she did photoshoots, Adidas commercial, ect there!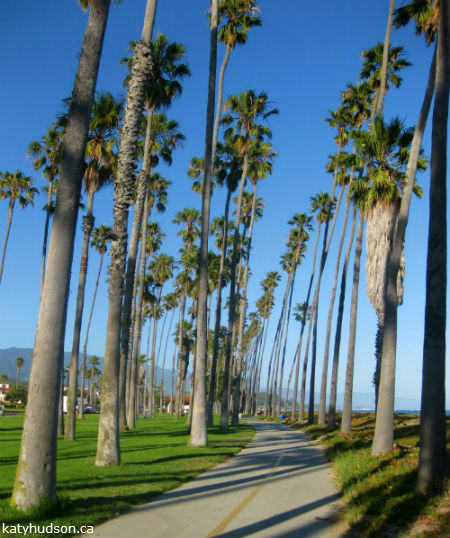 Ate at La Super Rica (Mexican)! Ate at Rustys (pizza & wings... MMMM). Checked out the Farmer's Market. Bought some pistashios and sticks of honey! Spent a lot of time shopping on State Street (a main street that runs right down to the beach). Visited an old church called... "Old Mission Church" :) Checked out some yard sales... bought a necklace. :) Walked ALL the way to where Katy lived! Walked down the street, saw her house!

"MYV Hoods" - September 2010

Photo I took July 2012

BACK TO LA
Met up with one of Katy's bodyguard's during the California Dreams Tour. He's the one that I mentioned in the Calgary/Edmonton CDT show--he was very sweet and made me a VERY happy KatyCat! Months after the tour ended I came into contact with him and we kept in touch. We attended a free fan screening of KP3D at Universal Studios (thanks to Paramount as I was a KP3D Leader for Alberta, Canada). Got another round of free food/drinks at the consession. (Mmm, sour patch kids!) He had't seen the movie yet... he laughed everytime he saw himself in the movie!!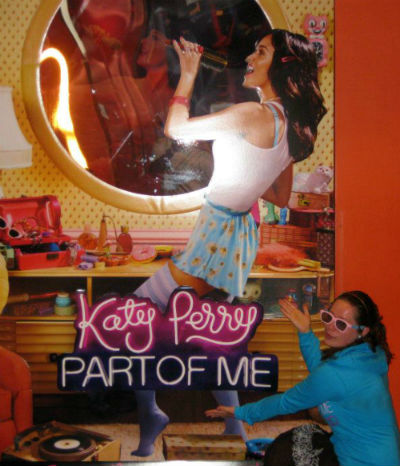 HOME TO CANADA