GROWING PAINS: 2005

| 2002 | 2003 | 2004 | 2005 | 2006 | 2007 |
| Index |

Still signed with Columbia; writing, recording, meeting new people . . . .


Around this time Katy met another singer/songwriter
(in a thrift store: "Wasteland" on Melrose Ave, Los Angeles)
with big dreams, Bonnie McKee.
Became good friends and later teamed up to write Katy's successful "Teenage Dream" album.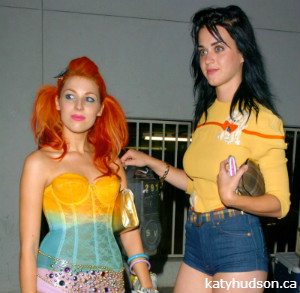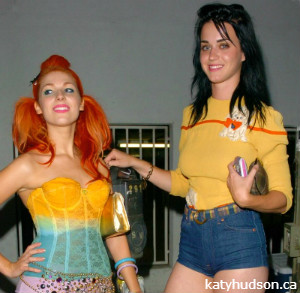 Featured in the February issue of Teen People Magazine's "What's Next."
Photo taken late 2004.
(larger scan here)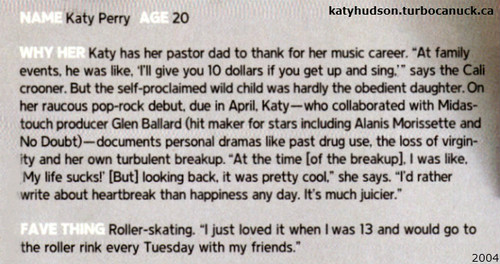 Katy became a MySpace member in April which further helped get her name/music out there.
May 24
"Simple" (recorded/video done in 2003) featured on
"Sisterhood of the Traveling Pants Soundtrack."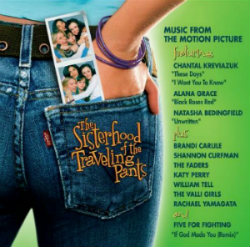 Photoshoots with well known photographers Terry Richardson and Ellen Von Unwerth
(who she still works with today)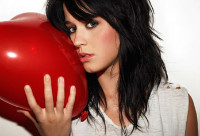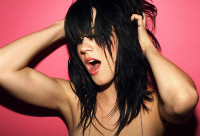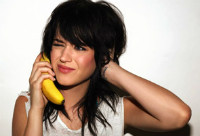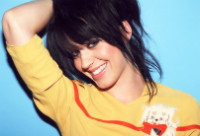 Some media sources **claim Katy released a limited edition album/promo in Japan in August.
This is **NOT true. Nothing was ever released. :)

**note from me: What little there was to research on this didn't add up or make sense. Then I got a blessing of an opportunity when I went to LA for Katy's movie premiere in June 2012. The one and only Glen Ballard was a few rows behind me! I asked him about this rumor and he was happy to clear it up!


At the end of November a video for P.O.D.'s "Goodbye For Now" video was shot.
Katy does backing vocals for the last 30 seconds on the song and is in the video released January 2006.
More info in Year 2006! | 2002 | 2003 | 2004 | 2005 | 2006 | 2007 |
| Index |